Everything you need to cleanse your colon
The Blessed Herbs Colon Cleansing Kit is one of the best colon cleanse and detox kits in the world. The cleanse can be performed over 8 days at full strength. This method is where the person juice fasts while taking the formulas for 5 days and spends 3 days preparing for the fast.
The second way to do the cleanse is the "lighter" detox method, which is designed for people who would like to take it a little slower. Under this method the person consumes only alkaline forming foods for up to 2 weeks, along with the cleanse formulas.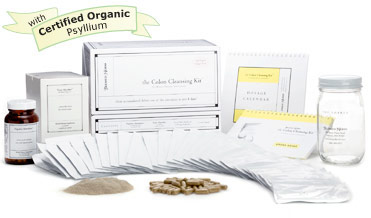 also check the Internal Cleansing Kit
Whether you choose the stronger or slower cleanse method, you will remove a lot of toxins within a short time and experience minimal hunger and reactions. This is due to the well crafted herbal formula called "Digestive Stimulator", which stimulates the colon and organs.
The second formula is called "Toxin Remover", which soaks up the toxins, and also binds mucoid plaque and safely removes it.
The Toxin Remover is a powder consisting of bentonite clay, psyllium husks, ginger, and apple pectin. It is mixed with apple juice and drank either 5 times a day while fasting, or 2-3 times a day if doing the slower program.
The Digestive Stimulators consist of various herbs in a capsule, and they are taken in the evening, and they gently stimulate the colon This formula contains: Cape Aloe leaf & Aloe Vera leaf, Cascara Sagrada bark, Chinese Rhubarb root, Barberry root, Dandelion root, Fringe Tree root bark, Triphala fruit, (Amla fruit, Belleric Myrobalan fruit, Chebulic Myrobalan fruit), Meadowsweet aerial parts, English Plantain aerial parts, Ginger root, Fennel seed, Peppermint leaf, Fenugreek seed, Licorice root.
The Blessed Herbs Colon Cleanse comes with a money back guarantee so you can be assured of your satisfaction.
.

Mucoid Plaque Removed on a the Blessed Herbs Colon Cleanse