This comprehensive book covers everything you need to know to complete the Master Cleanse (Lemonade Diet).

This eBook contains all the instructions you need to perform the world famous cleanse right away! It is well written, easy to understand and concise.

The Master Cleanse is great for:

Removing Toxins from the Body

Removing Mucoid Plaque

Restoring Digestive Function

 
Topics include
Germ Theory
The Master Cleanse – Instructions
The Purpose of the Master Cleanse
When to use the Master Cleanse
How to prepare the Master Cleanse
How much should I drink?
Elimination
Directions for internal salt water bathing
How will I feel while on the lemonade diet?
How to End the Lemonade Diet Cleanse
More Information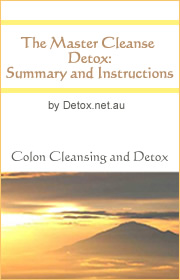 Also included FREE is our second eBook called The Secrets of Health, which includes:
Explanation of the origins of sickness and weight gain
How to heal a sick body naturally using tissue and bowel cleansing, without doctors and chemicals, once and for all
Instructions and formula for two different intestinal/body cleanses

Acid/alkaline foods explained

Acid/Alkaline food chart

Emotional and spiritual aspects to health explain
All this is included in an easy to read downloadable book in PDF format for only $US8.90 (~$AUD9.20).
The download is quick and all you need to view the book is Acrobat reader. Most computers already have it, but it's available for free download when you get the eBook.
Money Back Guarantee
If you are not happy with this ebook for any reason, send us an email for a full refund.